A new report shows that the supply of for-sale homes shot up in February, thanks largely to properties languishing on the market longer as buyers contended with affordability challenges.
The report, out Thursday from Realtor.com, notes that "the inventory of homes for sale continued to grow" last month and was ultimately up 67.8 percent compared to February 2022. Inventory also rose despite the fact that sellers put 15.9 percent fewer homes on the market last month compared to the same period last year, according to the report.
"In February, no regions saw an increase in selling activity," the report adds.
The reason inventory is rising even as fewer homes go up for sale is because the average days on market has grown to 67, up from just 44 last year in February. In other words, homes are sitting unsold for longer. And the reason homes are sitting longer is that "buyers continued to face affordability constraints," according to the report.
Inman Connect
Attend Inman Connect Las Vegas to gain takeaways to achieve success in 2023.
Is anyone ever 'right'? The perils of predicting housing markets in 2023
Brad Inman: Decision-makers, not experts, will forge real estate's path
Zillow's Curt Beardsley: 'Invest time and energy with companies that are going to be here next year'
However, despite that lengthening time on market, the report notes that overall in the U.S. homes are still sitting on the market for less time than they were before the COVID-19 pandemic.
Trending
Former KW CEO slams Gary Keller, calls company 'criminal enterprise'
Compass revenue falls in Q4 — but losses narrow despite 'difficult year'
Compass explores possibility of franchising, company says
SPONSORED CONTENTGrowing your real estate business abroad? Consider a helping brand
The median home price in February was up 7.8 percent year over year. That's less growth than took place in January when prices climbed 9.7 percent, the report goes on to note.
Ultimately, the median listing price for U.S. homes in February was $415,000. That's up from $406,000 in January, but the report also reads that it's down from "a record high of $449,000" last June.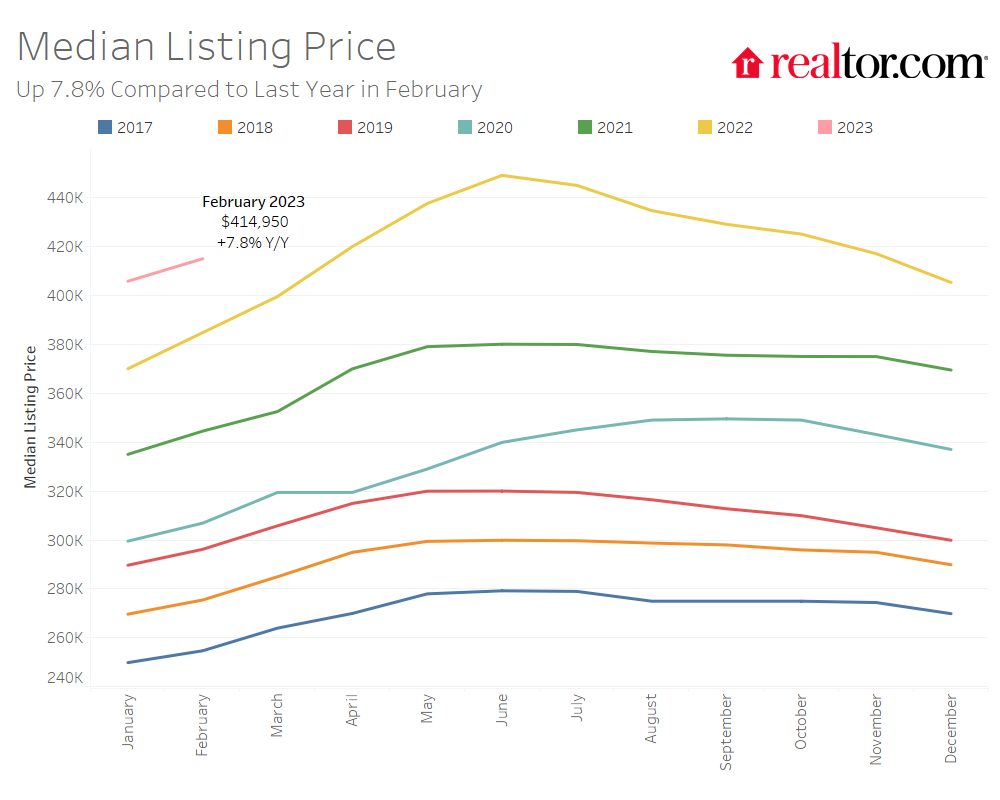 Pending listings — or homes that have gone under contract — dropped in February by 24.7 percent. That's an improvement over January's year-over-year drop of 32.1 percent, and the report suggests that the improvement last month "could mean that the housing market is starting to stabilize at a relatively low level of existing home sales activity."
However, any market stabilization could be upended if inflation and mortgage rates change in the coming months, the report also warns.
The U.S. is also seeing considerable regional variation in home supply. The South, for example, saw inventory rise 141.4 percent year over year in February. The West saw inventory rise 82.9 percent, followed by the Midwest at 36 percent and the Northeast at 20.3 percent.
Broken down by metro area, Kansas City had the longest average days on market in February at 97. It was followed by Pittsburgh at 89, New York at 84 and New Orleans at 71.
Homes in San Jose, California, experienced the shortest average days on market at 30.
The metros with the largest year-over-year jumps in inventory include Austin at 335.1 percent, Raleigh at 329.8 percent, and Nashville at 299.7 percent.
The metro area with the least amount of inventory growth in February was Hartford, Connecticut, where the number of homes for sale actually fell 8.8 percent. The metro area was the only one included in the report that saw negative inventory growth in February 2023 compared to February 2022.
Overall, however, the report ultimately notes that "despite high inventory growth compared to last year, most metros still have a lower level of inventory when compared to pre-pandemic years."
Source: inman.com